Popular Japanese brand - Matsumoto Kiyoshi has landed in Hong Kong! |Living Space|One Storage|Mini Storage
Release Date : 23-05-2022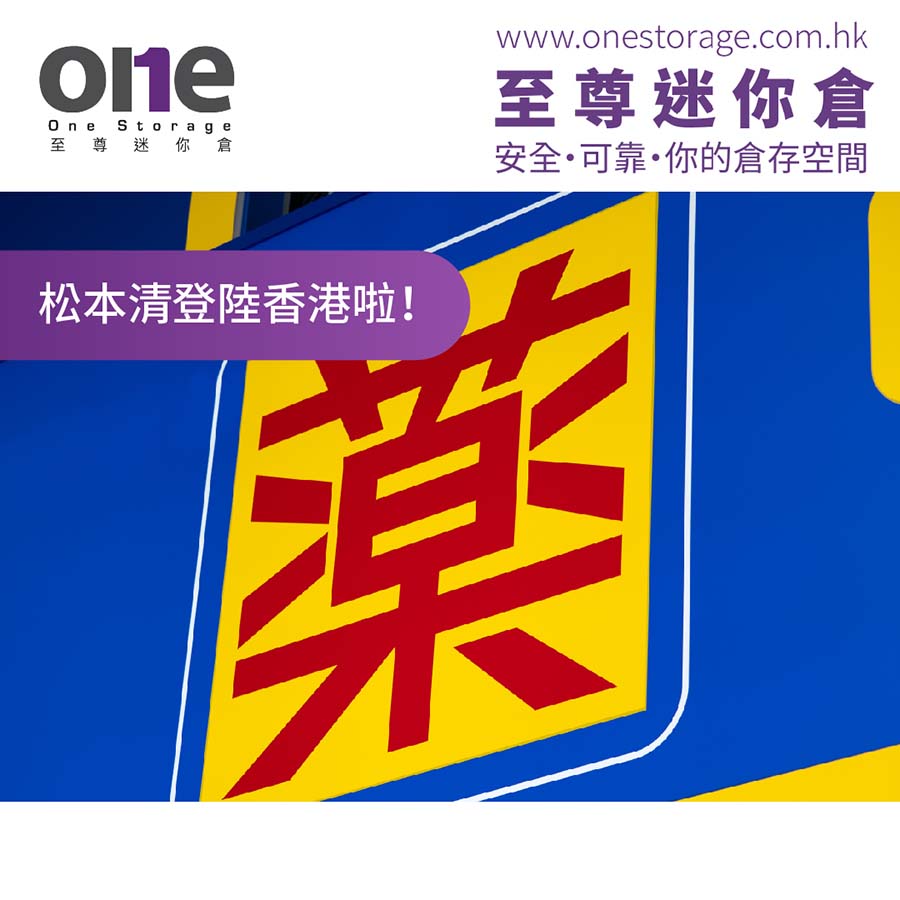 After years of waiting, it feels like it's time to travel soon! I believe many people will immediately want to go to Japan, right? During this waiting time, Japanese cosmeceutical products can also be purchased in advance in Hong Kong! Because Japan's large chain drugstore brand - "Matsumoto Kiyoshi" has landed in Hong Kong!
Matsumoto Kiyoshi's first APM store in Kwun Tong, Hong Kong has opened on May 11, with a total store area of ​​about 3,500 square feet! Guaranteed variety of products as many branches in Japan! Japanese cosmeceutical products that were hard to find in the past, such as Matsumoto Kiyoshi's own brand "matsukiyo", facial skin care brand "RECiPEO", and body and hair care brand "ARGELAN" are all on the shelves in Hong Kong branches! However, the drug regulations in Japan and Hong Kong are not the same, so some in-store drugs may require a doctor's certificate to buy. At the same time, the Hong Kong branch will have a pharmacist on site to provide professional advice and services for reference!
The branch mainly focuses on cosmeceuticals, but also sells other products, so the store is divided into 10 areas, including own brands, beauty, vitamins and medicines, Japanese snacks and daily necessities! Japanese snack fans should pay attention to the Japanese snack section, there are many kinds of snacks directly delivered from Japan not to be missed!
Now there are the following opening discounts (please pay attention to the official time and details)
During the period, you will have the chance to receive a "Matsumoto Kiyoshi" cloth bag with a purchase of $300 or more

10% off sitewide opening (until May 31)
Receive a $50 Cash Coupon with purchases of $500 or more, while stocks last. (May 23 to June 5)

If everyone can go to Japan as usual, will they not only buy cosmeceuticals? I believe that many people will also buy box after box of clothes, food and toys. However, happy to buy, but afraid that there is not enough storage space at home? Want to buy something you like, but also want to have enough living space? Come to our One Storage Extreme Mini Storage Helper!
There are a total of 37 One Storage super mini storages in Hong Kong! Always ready to serve you! The air-conditioning constant temperature system and safety and security system in the warehouse can make all the customer's items in a safe and stable environment. Safely store all your shopping spoils, and feel the benefits of a mini-storage and the living space created for you!

Don't worry about running out of space when you go out shopping! The limited offer launched by One Storage Extreme Mini Storage can help you!
-------------------------------------
Hong Kong Island: Siu Sai Wan|Chai Wan|Tin Hau|Kennedy Town|Wong Chuk Hang
Kowloon: Yau Tong|Kwun Tong|San Po Kong
New Territories: Kwai Chung|Kwai Hing|Kwai Fong|Tsuen Wan|Tsing Yi|Fo Tan|Tai Po|Tuen Mun
Click here for Express Whatsapp: https://cutt.ly/51188503
*Terms and conditions apply, please contact our staff for details.
*Terms and Conditions: Offer is subject to availability while stocks last. This offer is only applicable to new registered customers of Supreme Mini Storage. In case of any dispute, the decision of Supreme Mini Storage shall be final. Registrants have read this Disclaimer page and agree to the Personal Data and Privacy Statement and are willing to receive promotional information.