The Easy Guide to Moving into Tsing Yi! Real estate, decoration, moving house, transportation and living facilities, mini storage|One Storage|mini storage
Release Date : 20-05-2022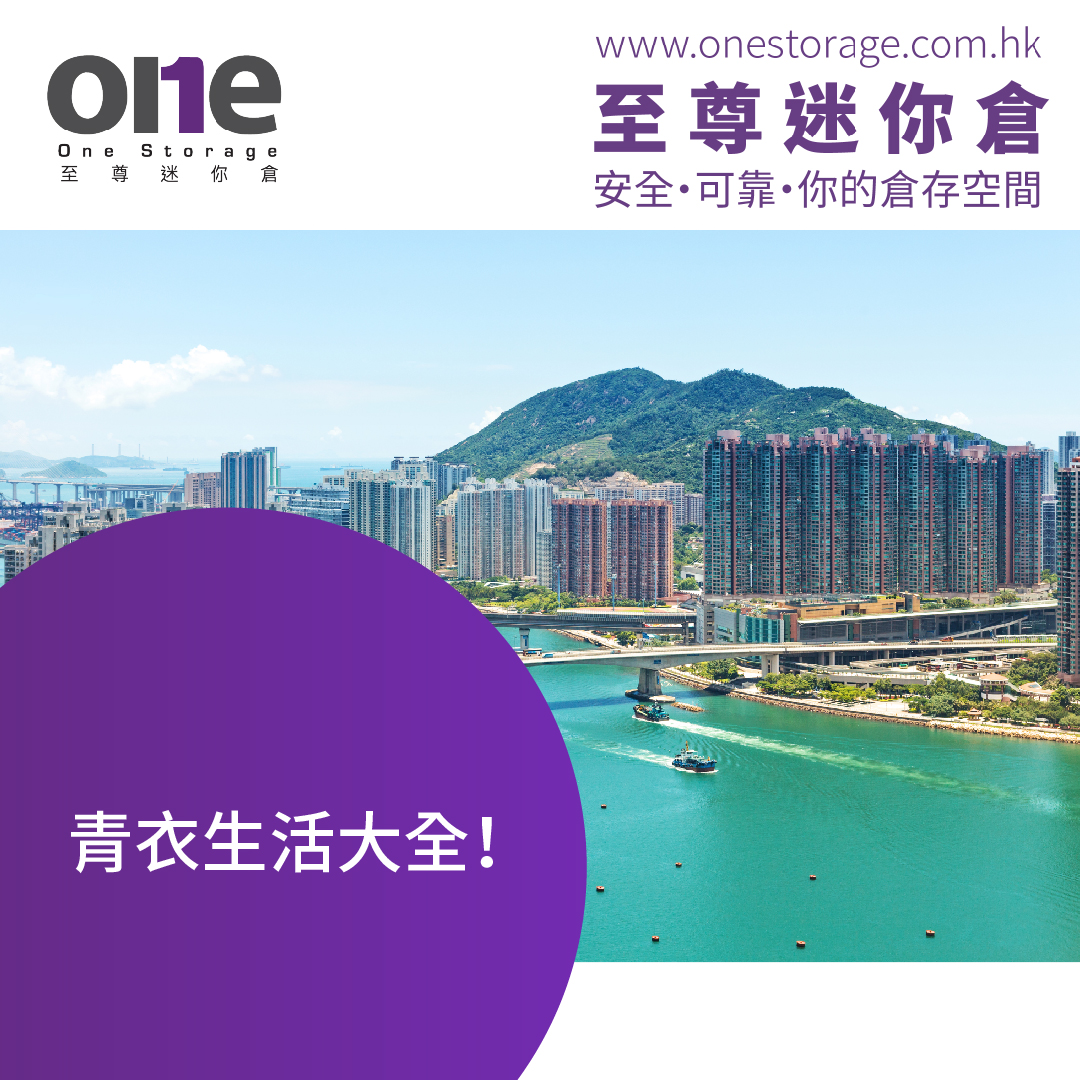 Although Tsing Yi is an independent island, it still belongs to the Kwai Tsing District. As one of the cores of the development of the new town in Tsuen Wan, it also belongs to the New Territories. Do you know that Tsing Yi is the fifth largest island in Hong Kong, with a population of over 200,000 people, and one of the most densely populated islands in the world!
Why is Tsing Yi becoming more and more attractive to different friends? Have you carefully understood the uniqueness and attraction of Tsing Yi? Why don't you come and follow the One Storage Extreme Mini Storage to learn more about Tsing Yi!
Area Introduction - Tsing Yi
Tsing Yi, it is said that in ancient times, it was called Spring Flowers Falling and Weighing Clothes. Some people say that the name of Tsing Yi comes from Tsing Yi fish, which may be because the northeastern part of Tsing Yi was rich in Tsing Yi in the past; it may also be because the shape of Tsing Yi Island is like Tsing Yi. In the ancient books of the Ming Dynasty, there has been a record of the name "Spring Flower Falls". However, some people think that the time is long, and the location of the island at that time may actually be mismatched with the name (for example, the location of "Spring Flowers Falling" in the ancient book may be describing Stonecutters Island).

At present, Tsing Yi is actually formed by the reclamation of three different small islands. They are the original Tsing Yi Island, Chau Tsai Island in the southeast of Tsing Yi today, and Ya Ying Island in the northeast of Tsing Yi.
The development of new towns on Tsing Yi Island is relatively scattered, with development in the city center of Tsing Yi, Sanzhixiang, Menzaitang, Yaying Island, etc. Before the urban development of Tsing Yi, there were already a number of market, rural and fishing village settlements to meet the daily needs of living. After 1974, with the opening of the Tsing Yi Bridge and the Tsing Tsuen Bridge, the traffic in Tsing Yi finally became more convenient, and the township development began on a large scale. , in order to facilitate the construction of various infrastructure transportation construction, housing and daily community facilities.
After 1975, bus No. 44 officially provided services and became the first walking bus route in Tsing Yi (to and from Lai Chi Kok and Tsing Yi Street). After that, new bus routes were developed one after another. Bus No. 43 and East Kowloon Bus Route No. 42, etc. The traffic in Tsing Yi is becoming more and more mature. Until around the 1990s, the airport, many large housing estates, major community facilities (Tsing Yi Park, Tsing Yi Sports Ground, Tsing Yi Swimming Pool, Tsing Yi Municipal Building, etc.) and large shopping malls - Tsing Yi City were completed one after another, and Tsing Yi officially became a mature new city. town.

Since the 1970s, with the development of urbanization over the years, Tsing Yi has become a large-scale residential area integrating recreational and sports facilities, large shopping malls, various schools, colleges and universities, etc. Residents can easily handle all life in the house affairs. At the same time, Tsing Yi has built a number of important infrastructures, including oil depots, shipyards and docks; it also has various traffic arteries, including the Lantau Link, Ting Kau Bridge, Stonecutters Island Bridge, etc., and the southeast of Tsing Yi is the No. 9 container. The location of the wharf; making Tsing Yi an important transportation and industrial hub in Hong Kong!
Tsing Yi Properties
After knowing more about Tsing Yi, I know how convenient it is. There are corresponding facilities for food, clothing, housing and transportation in the district. It is normal for everyone to want to move in and live. That being the case, why don't you get to know the real estate information in Tsing Yi to help you consider?
Tsing Yi Property 1-The Grand Marine
Mingqiaohui The Grand Marine is located at No. 18, Xishan Road, Tsing Yi, Hong Kong. The project provides two 35-storey residential buildings with a total of 776 units with a usable area ranging from 278 to 2,728 square feet, with one- to two-bedroom units.
Many units can overlook the mountains and the sea in the distance. It is near the scenic garden bus and minibus stops, and you can also take a bus to the MTR Tsing Yi Station. The project also includes the clubhouse The Grand Club, which covers an area of ​​about 35,000 square feet and provides about 20 services, including banquet halls, swimming pools, fitness rooms and VR experience rooms.
Tsing Yi Property 2-The Met Azure
The Met Azure, located at No. 9 Liaoto Road, will be launched in the second quarter, and the key completion date is expected to be December 31, 2022. The project mainly focuses on the sea view at the bottom of the open-plan high-rise buildings, and also faces the green area. The project is a stand-alone building with a maximum unit area of ​​about 300 square feet and a themed clubhouse.
Other properties
Tsing Yi also has other famous real estate, you can also check it out!
Scenic Garden Tsing Yi Garden Tsing Yi Tsing Yi Garden
Hao King Wan Ying Chui Peninsula
Open kitchen renovation
Currently, the living space in Hong Kong is generally not large. In order to make the space more "washable", many small families will consider the design of an open kitchen. However, an open kitchen has more points to pay attention to than the general kitchen design. Therefore, One Storage Extreme Mini Storage has prepared some tips for you!

Open Kitchen Renovation Tips 1 - Fume
The problem of oil fume is the most important problem to be dealt with in cooking, otherwise oil fume will have a great impact on the home, so you'd better choose a range hood with high quality and high exhaust air volume to ensure good ventilation and reduce household, Indoor fumes.
Open Kitchen Renovation Tips 2 - Item Storage
The countertop of the open kitchen is not suitable for placing too many cooking utensils to ensure the beauty and neatness of the overall home. Therefore, try to set up more cabinets in the open kitchen, and put all the appliances that obviously affect the appearance of the home into the cabinets in one go.
Open Kitchen Renovation Tip 3 - Circuit Setup
Circuit safety is also a matter of consideration when decorating an open kitchen. It is best to keep the circuit away from the gas pipes, petroleum gas pipes, etc. in the kitchen, and the water pipes should also be connected underground.
Open Kitchen Renovation Tip 4 - Lighting
If only one headlight is installed on the top of the kitchen, there is a chance that there will be blind spots in the light when cooking, and it will be more dangerous when cutting vegetables. It is best to install small lights under the wall cabinet, and the area near the stove and cooking rice will have enough light from different angles, which will make cooking easier and safer.
Finishing house cleaning tips
Can you move in with peace of mind after renovating and moving? In fact, there is still something to deal with, which is to do a big clean! Here are some tips for clearing up your new home:
Cleaning Tip 1 - Remove Formaldehyde
Most units will emit a pungent and unpleasant odor after renovation, which is the odor of formaldehyde. Wood and some glues, floors, carpets, paints, wallpapers, etc. will contain formaldehyde.
Formaldehyde is a first-class carcinogen. If you inhale formaldehyde for a long time, it will cause problems such as dry eyes, headache, and difficulty breathing. Therefore, after decoration and moving, formaldehyde should be cleaned up as soon as possible. There are also many ways to remove formaldehyde, such as opening windows and doorways to circulate air, using onions to absorb pungent odors, or cleaning new homes with white vinegar.
Cleaning Tip 2 - Cleaning and Disinfection
After the formaldehyde is removed, the dust and dirt should be swept away, and then the floor and furniture in the unit can be cleaned with clean water. You can also use 1:99 diluted bleach to clean the home, first clean the living room and furniture in the room, then use the diluted bleach to mop the floor for sterilization, and finally clean the bathroom.

Mini Storage Introduction
As a convenient new town, Tsing Yi brings a bit of freshness and quietness away from the hustle and bustle. And Tsing Yi also has a mini warehouse with excellent service and open 24/7!
And Tsing Yi has our One Storage Extreme Mini Storage, ready to serve you at any time!
Tsing Yi Industrial Centre Branch (5 & 7/F, Block D, Phase 2, Tsing Yi Industrial Centre, 1-33 Chesa Road, Tsing Yi)

Our One Storage Super Mini Storage has nearly 30 branches all over Hong Kong! The warehouse is equipped with an all-weather air-conditioning and constant temperature system to ensure the state of the stored items at all times, making you feel at ease and at ease! At the same time, we also follow various fire protection and safety requirements. The safety of customers and customer items has always been our primary consideration!

Friends in Tsing Yi District are surrounded by mountains and seas! Also, don't miss the limited offer from One Storage Extreme Mini Storage!
-------------------------------------
Hong Kong Island: Siu Sai Wan|Chai Wan|Tin Hau|Kennedy Town|Wong Chuk Hang
Kowloon: Yau Tong|Kwun Tong|San Po Kong
New Territories: Kwai Chung|Kwai Hing|Kwai Fong|Tsuen Wan|Tsing Yi|Fo Tan|Tai Po|Tuen Mun
Click here for Express Whatsapp: https://cutt.ly/51188503
*Terms and conditions apply, please contact our staff for details.
*Terms and Conditions: Offer is subject to availability while stocks last. This offer is only applicable to new registered customers of Supreme Mini Storage. In case of any dispute, the decision of Supreme Mini Storage shall be final. Registrants have read this Disclaimer page and agree to the Personal Data and Privacy Statement and are willing to receive promotional information.